Quick & Reliable Skip Bin Hire Logan
We have a list of top Skip Bins companies in Logan QLD
Why
Industry Top 5

is your Top Choice for Choosing Skip Bin Hire Logan Services

Are you looking for cheap skip bins Brisbane can provide that can deliver skip bins when you need them? Are you looking for affordable Logan skip bins that can help you with your green waste after spring cleaning? With numerous skip bin hire services trying to catch your attention, selecting the most qualified skip bins service in Logan who can deliver prompt service can be a challenging task. That is when Industry Top 5 can help. We provide our customers with a stress-free site where we make it quicker for you to select the most dependable skip bin hire services within a few simple steps. Let us tell you how:
Bring the Most Value out of Your Time and Effort
Looking for dependable skip bins services can be an arduous and time-consuming task at times. Taking too much time in your selection process can also lose your valuable business time. Industry Top 5 provides our customers with a business directory that helps them search for essential businesses to ensure that they can make the most our their time, effort, and money, by saving on their selection time.
Enjoy All Our Features for FREE!
Not only does Industry Top 5 provide the maximum value when they use our site, but we also offer every useful feature of our site for FREE! No membership fees are required. You can enjoy the result of our hard work, the curated list of well-researched and reputed skip bin hire Logan can provide. You can easily reach them using our site with just a few simple steps. You can make meaningful comparisons within minutes of using our site. All for FREE.
Genuine Customer Reviews to Help You Decide
Knowing customer reactions are essential for our customers to decide on the most dependable skip bins services that serve the logan area. With information on a year ago, great service and consistent customer satisfaction, you can rely on our curated list to provide you with the most reputed skip bin hire services available in Logan. This list is based on our research on customer ratings to ensure that any choice you make has the support of happy customers.
Getting Prompt Service Quickly and Easily!
Not only do we make the selection process for the most reliable skip hire Logan has available simpler, but we also make it quicker to do on our easily-navigable site. The first page alone saves you time researching for relevant data that will provide information on customer satisfaction. You can get even more data with just a few simple steps. Just fill out the quote forms and the most dependable skip hire Logan services will send you their obligation-free quotes and contact you ASAP.
The Most Relevant Information You Need To Make a Solid Choice
Industry Top 5 are experts in the industry, and we don't want our customers to take chances with scant data. That is why we provide our customers with all the relevant data they need with just a few simple steps. The first page alone contains a wealth of data such as the curated list of the best bin hire services, their contact information, customer reviews, and other relevant data. You can get further by filling out the quote form and having them contact you
Why Select Local Skip Hire Logan Services
Do you need to ensure the right size skip bin sizes that can satisfy your requirements? Do you require the next skip bin to fit your construction waste, garden waste, household rubbish, and all your waste disposal needs in a few trips within the Logan City Council areas at affordable prices? Don't worry! Industry Top 5 can help you get the most dependable skip bins Logan can provide. These skip bins services can render great customer service no matter how much waste you require them to dispose of.
Finding the Best Skip Bin Hire Services in Logan
Industry Top 5 are experts in the industry, and we have done the hard work of researching the best skip bin services throughout Australia to provide you with the most reliable skip bins in Logan City Council areas to ensure that you will have maximum satisfaction for any services you select. We also made it easy for you to get more relevant information. Just a few simple steps are what you need to get all the comprehensive you need to make a choice from among the leading skip bins in Logan and get competitive pricing as well.
These skip bin hire services can handle a wide range of waste types from general waste, food waste, green waste, and for any size skip you will require. These Logan skip bins can arrive at your delivery location to help your work area become safe and free from safety issues. When you select a skip hire in Logan on our site, you can be sure you can have fast delivery and to rid of your unwanted rubbish in a timely manner.
Green Waste and Recyclable Materials and Other Skip Hire Logan Benefits
Skip bins services are more than just providing rubbish removal services, but Skip bins are also responsible companies. They participate actively in handling recyclable materials by bringing them to collection centres for sorting out. These can help minimize landfill space and conserve resources. Though the handling of contaminated waste is strictly prohibited, skip bins services have the proper council permit to operate to handle a wide range of waste materials and can advise you on how to handle prohibited wastes such as gas bottles, fibro cement sheeting, and asbestos among others.
These skip bins can eliminate green waste after thorough spring cleaning expansive green areas. From tree branches, untreated wood, to grass clippings, they know how to help you do a thorough clean-up job.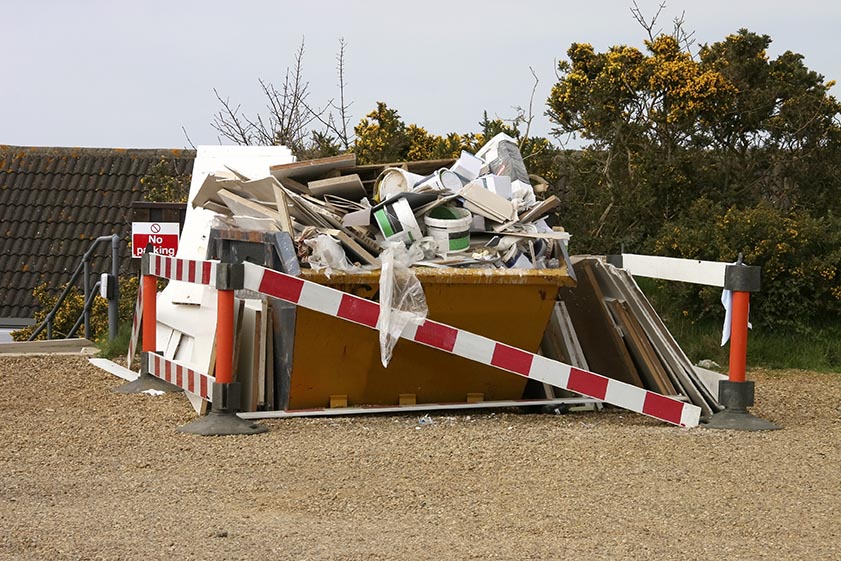 Frequently Asked Questions
A small skip can cost as low as $150 for a small one to as high as around $900 for large ones. To help you determine how much your requirements would cost, you need to consider the price per square metre. The cost covers the rent of the skip bin and the driver's labour cost. The average rate of hiring a skip bin based on bin size is $75. Or, if you consider Skip hire and removal cost combined, the cost is $55 per cubic metre to $89 per cubic metre.
Professional skip bins services are very responsible when it comes to managing Waste. They don't send the Waste directly to the landfill. They send it to a recycling yard where the Waste is sorted through. Recovery centres will receive these recyclable materials such as glass, metal, most types of wood.
Location: the farther the skip bin rental service location is from your construction site, the more you will be charged.
Type of Rubbish: Rubbish types that do not require special handling, such as Green Waste, do not cost more. However heavy waste types such as bricks and concrete need special handling and will require professionals.
Local business cost: Labour costs, local business permits, and local taxes affect the price of skip bins
The length of time you rent.
The size of the skip. If you hire smaller skips, you would have to pay for more trips. But it helps if you can seek the help of a professional to assess the best size of skip you require.
The following types of rubbish can't be disposed of in skip bins because of their impact on the environment and the reason that these materials require a different procedure for disposal and management:
All kinds of chemicals
Toxic Waste
Asbestos
Motor oil and any types of fuel
Unused paint
Pressure vessels containing gas (such as fire extinguishers and other gas tanks)
Recent Reviews Skip Bins In Logan
Two hours delay can be stinking bad! If you run a restaurant this will ruin your day literally. I have various waste on my property like garden waste and hazardous waste or even refurbishment waste it has to be same-day delivery to the transfer station, it's a good thing I found this site.
Fortunately, that never happened again since I have this business directory. Very handy for emergencies including finding the right skip hires. Now  I'm rubbish free space.
Angus Bateson
Slacks Creek
If you hate delays, you will surely love having a specialised business directory for this particular need for getting skip bins in a hurry.
Just like me, I have a family-owned business I need a collection service to get rid of the waste fast especial for waste like old office furniture or any hard waste.  I never had a problem with the services I find here. Especially for skip bins, that can be a huge inconvenience not getting your trash picked up for just one day.
Blake Church
Browns Plains
As a builder, you need things cleared up quickly. I do construction projects for a living and on the building site, I can't control the amount of debris on my building materials.
We can use our trucks but there are regulations we need to follow. Only skip bins can do this. And you need skip bins service that knows this particular need. This business directory was helpful,  not only that contains the local skip bin hire in logan but also in skip bin hire Brisbane or surrounding suburbs. And can be helpful if you do multiple cities and suburbs.
About Logan QLD
Logan City is a local government area within the Brisbane metropolitan area. It is surrounded by the Local Government Areas of the City of Brisbane, City of Redland, City of Ipswich, and the City of Gold Coast.
This area is highly suburban with large reserves of open spaces and parks. It is accessible to vast bushland reserves, most with walking, mountain bike, canoe and kayak, and boardwalks among others.
Logan City has a diverse culture with people coming from a wide range of ethnicities. This can be felt from the cuisines on offer. There are substantial commercial areas in each retail precint all over the Logan City Local Government areas.
Similar Services To Skip Bin Hire Logan QLD