Best Skip Bin Gold Coast
We curated a list of Quick & Reliable Skip Bins Hire in Gold Coast QLD
Why Choose
Industry Top 5?
With many skip bin hire services available, it is a daunting challenge to find one you can rely on that can do this task consistently. Don't worry. Industry Top 5 can help you find them.
Save
Time, Effort,

and

Money

What you need is the most reliable to ensure your business is not left behind. Even home renovations can require substantial rubbish removal, and we don't want you to take any chances. You can access a narrowed list of only the top Skip Bins Gold Coast hires with our easy-to-use site.
We are
Free
The value presented by quickly selecting the best Skip bins Gold Coast and surrounding area can offer is significant. Moreover, the chance to arrive at an informed decision based on a solid set of information on one site is crucial for you to save a lot of trouble. Best of all, you can do all of these for FREE.
Real
Customer Reviews
We believe that genuine customer statements are essential for helping our customers arrive at an informed choice from among the top skip bins Gold Coast and the surrounding areas can offer. Based on this crucial piece of information, we narrowed down the selection to only the leading skip bin services that you can trust. Just imagine this combined with the comprehensive set of information you can hold sooner. You can't go wrong with your choice.
Ease of
Use
We value the utmost convenience for our customers. So, we made our site easy to navigate. With just a few simple steps, you can get to a narrowed list of only the top Skip Bins Gold Coast has on offer. Just fill out the contact form, and each leading skip bin hire company will send their obligation-free quote and get in touch with you as soon as possible.
Comprehensive
Information
Industry Top 5 realize that Skip Bins are not just about rubbish removal. Skip Bins are a crucial element to keep commercial activities, and even private activities, run normally. That is why we don't want our customers to take any chances by choosing blindly. With the comprehensive information you can get through our site quickly, we present you with the opportunity to make the right choice. Always.
Local
Service
You don't need to go far to look for the ideal Skip Bins service to save on cost. Location is crucial. We researched hundreds of businesses throughout Australia to bring each city a narrowed choice of the top businesses that can help give more value to your way of life and businesses. We don't just end with Skip Bins Hires. Luckily, Skip Bins Gold Coast and surrounding areas are some businesses we want to get near to you.
Are you looking for experienced professionals who can do rubbish removal and disposal for a vast range of scale and complexity that can help support your house renovation, business, and construction work and do it consistently on time? Industry Top 5 narrowed down the list of the top Skip Bins Gold Coast, and the surrounding areas have on offer. We simplified the daunting process of selecting from qualified businesses to help make sure you get the best value out of your decision. We also made it easy for you! Just fill out the contact form, and the top Skip Bins Gold Coast hires will send obligation-free quotes and contact you as soon as possible.
Benefits of Skip Bin Hire Near Gold Coast
Whether construction work, groceries, restaurants, or home renovations, getting a dependable rubbish removal service is key to keeping your business running and avoiding losing money. Many companies sometimes overlook that keeping the workplace neat and safe is crucial to keep operations running on time and meet deadlines. That is why we work hard to give our customers a narrowed choice of the best possible services. Here are just some of the few benefits of Skip Bin Hire Services can bring to your business, as well as your private activities:
We are aware that their primary function is to remove and dispose of rubbish. But you have to realize that these are professionals who seek to add value to your business. With their expertise, they can handle a vast range of waste as allowed by law and save you money by selecting the optimum size of skips to make sure that your workplace and yards are always kept clean and safe.
Skip Bin services are environmentally responsible companies. They sort rubbish to take our recyclable materials, thereby saving on landfill requirements. Moreover, they know the local regulations, thereby assuring you of doing rubbish disposal legally.
They can manage green waste among different waste types after lopping, prying, and hedging broader areas.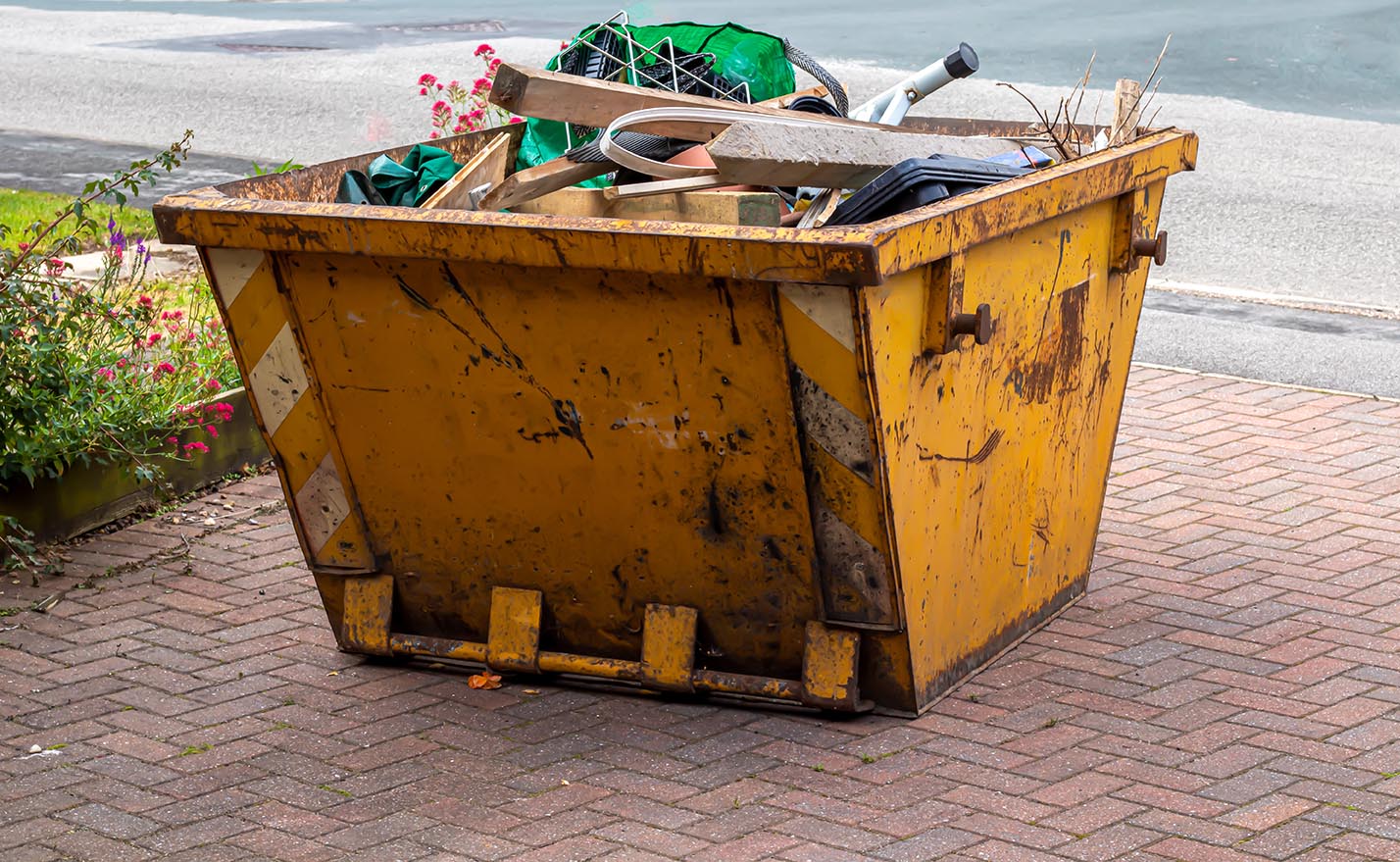 Frequently Asked Questions:
A small skip can cost as low as $150 for a small one to as high as around $900 for large ones.
To help you determine how much your requirements would cost, you need to consider the price per square metre. The cost covers the rent of the skip bin and the driver's labor cost. The average rate of hiring a skip bin based on bin size is $75. Or, if you consider Skip hire and removal cost combined, the cost is $55 per cubic metre to $89 per cubic metre.
Professional skip bins services are very responsible when it comes to managing Waste. They don't send the Waste directly to the landfill. They send it to a recycling yard where the Waste is sorted through. Recovery centres will receive these recyclable materials such as glass, metal, most types of wood.
What can be handled:
General Waste
Green Waste and Timber
Mixed Waste (Medium Weight)
Mixed Waste (Heavy Weight)
Concrete/Bricks
Clean Fill
Recyclable Materials
What can't be handled:
Batteries (containing liquid)
Gas cylinders (empty or full)
EPA regulated Waste or dangerous goods
Asbestors
Tyres or Machinery Tracks
Putrescible Waste
Chemicals
Large quantities of Styrofoam such as coldroom panelling, insulated roofing, etc
Recent Reviews In Gold Coast Skip Bin
One mistake I keep making is choosing the cheapest skip bins service I can find. Say, the yellow pages.
One way to save money is not necessarily selecting the cheapest but choosing the best ones that other people can attest to being really good consistently. The best thing about this site is they can point you to the best ones without frills. And they can find you the nearest ones. This is the closest thing to choosing the best choice blindly as you can! In one construction project we calculated a savings of around $100,000 alone compared to how we used to do it!
Matilda Sawyer
brisbane south
Gold Coast is the closest to heaven as you get with millions of tourists crowding the beaches.
But we have to work hard to keep everything neat and tidy for the tourists and skip bins hires are crucial for keeping it that way. Thankfully, a directory like Industry Top 5 provides help us find the best skip bin hires in the area that can keep up with the mounting demands of the tourism industry. Best of all, they make sure they help you maximize the skip space to make sure they make the most out the trip (and I tell you for a beach the size of ours they have to make several a day!).
Benjamin Hedditch
gold coast
You have to realize that this lovely city has a lot going on behind the scenes.
For any city crowded by tourists, what is behind that are people like us who support this by doing the grittier stuff. With a city of this size with all the tourists I believe that it stands on awesome skip bin hires helping to keep the city neat and tidy. Industry Top 5 is doing its part finding us skip bin hires doing splendid jobs on the alleyways helping businesses keep its heart beating with their work!
About the Gold Coast
A Gold Coast holiday means the same way as the Aussie lifestyle of surf, sun, and fun. Because of this, the Gold Coast receives close to ten million visitors each year. Tourist arrivals include those from Australia and the rest of the world. The Gold Coast is a coastal city located on the East coast of Australia and is an hour or so drive away from the state capital, Brisbane. With a population of just under 700,000, it is the largest non-capital city in Australia and the sixth-largest overall. Aside from its coast, which provides world-class surfing beaches, the Gold Coast offers many attractions. The city has vibrant nightlife and theme parks, and for those who love the wilderness, a rainforest hinterland is just a short drive away from the city centre and, of course, Hope Island.
The economy of the Gold Coast, like its population, is one of the fastest-growing in Australia.
Though tourism is still one of the significant contributors to the Gold Coast's economy, industries based on marine, education, information technology, food, the arts, and sports have taken hold. The Gold Coast's unemployment rate is lower than the entire country, and its varied industries present opportunities for immigrants.
Similar Services To Skip Bin Hire Near Gold Coast