Highly recommended Skip Bin Hire Craigieburn
We have a list of Top-rated Friendly Service Skip Bin Hire Rubbish Removal Companies in Craigieburn VIC
Why
Industry Top 5

is The Best Choice For Selecting Skip Bins

Do you want to ensure that your skip bins are collected before your opening hours? Do you want help from local businesses that deal with skip bins so that you can be sure that you can have the services you need as soon as you need them? With hundreds of similar businesses in Craigieburn and the surrounding areas vying for your attention, selecting the right skip bins services that can be a fit for your needs is a daunting task. That is why Industry Top 5 provides you with a simple yet effective way of selecting the most dependable skip hires in Craigieburn within a few simple steps. Let us tell you how:
Save Time, Money, and Effort for your Skip Bins Selection Process
As a keen business owner who is wants everything synchronized with your store details, you want to require a service delivered to you promptly, especially for skip bins. Ignoring just a few hours of collection time will mean a loss for your business day. That is why we made the selection process simple and quick, so you won't have to spend so much time looking for something you need so urgently. This will save you time, effort, and money.
Effective Skip Bins Selection Process for FREE
Industry Top 5 provides maximum value for more customers because of our great features available for FREE! Our customers can enjoy the benefit of using the product of our research to get the most dependable skip bins for Craigieburn from the hundreds of skip bin hire services throughout Australia. We also provide an easily-navigable site where you can quickly get all the information you need to make a solid choice within minutes.
Get Rubbish Removal Services Quickly, and Simply
Not only do we make the selection process for the most dependable skip hire services simple for our customers, but we also make it quick using our easily-navigable site. You always have helpful data throughout the site to help you decide on the most reliable skip bin services the more simple and easy steps you make on each page. Just fill out the quote form and the most dependable skip hires in Craigieburn will send their free quotes and contact you ASAP.
Honest Customer Reviews To Help You Decide
Industry Top 5 believes that customer insights are an essential way for our customers to make an informed decision. That is why we did the hard work of researching skip bin services throughout Australia to provide you with a curated list of the most dependable skip bins in Craigieburn for your selection. That means, whichever choice you make on our site has a strong customer satisfaction rating.
Don't Decide With Scant Data
Industry Top 5 cares for our customers. We don't want our customers to make a hasty choice based on scant data. We ensure that our customers have access to all the relevant data they need to make a smart choice when they use our site. The first page contains valuable information from each of the most dependable skip bin hires in Craigieburn. You can get further information with just a few simple steps to help you make a solid decision.
Local Skip Hires in Craigieburn VIC 3064
Do you require a skip hire service in Craigieburn open to come to you at your required schedule? If you want help to manage your rubbish at your specific address on time and within the budget, then the best skip hires in Craigieburn VIC 3064 and the surrounding areas can help you get that. They will save you on cost because of their proximity. Moreover, these skip hires know the local regulations for a worry-free waste management service.
Finding the Best Skip Hires in Craigieburn
Whether you need help with hassle-free waste disposal for your home or business, then Industry Top 5 is here to help you find them. Industry Top 5 are experts in the industry, and we have done the hard work of researching the best skip bin services throughout Australia to provide you with the most reliable skip bins in Craigieburn and the surrounding suburbs to ensure that you will have high-quality service for any services you select. We also made it easy for you to get more relevant information. Just a few simple steps are what you need to get all the comprehensive you need to make a choice from among the leading skip bins in Craigieburn and get competitive pricing as well.
These skip bins services will provide the appropriate skip bin sizes to ensure that you get good value for each trip. They will always provide professional service by doing prompt pickup service for a wide variety of waste types. They will ensure a safe and neat workplace through their prompt delivery and pick-up schedules.
Other Benefits of Skip Bin Hire Services in Craigieburn
Skip bins actively participate in recycling materials by bringing the rubbish to collection centres for sorting out. These can help minimize landfill space and conserve resources. Though the handling of contaminated waste is strictly prohibited, skip bins services have the proper council permit to do a massive job handling a wide range of waste materials and can advise you on how to handle prohibited wastes. These teams of skip bins can eliminate green waste after thoroughly cleaning broad green areas such as parks or broad properties.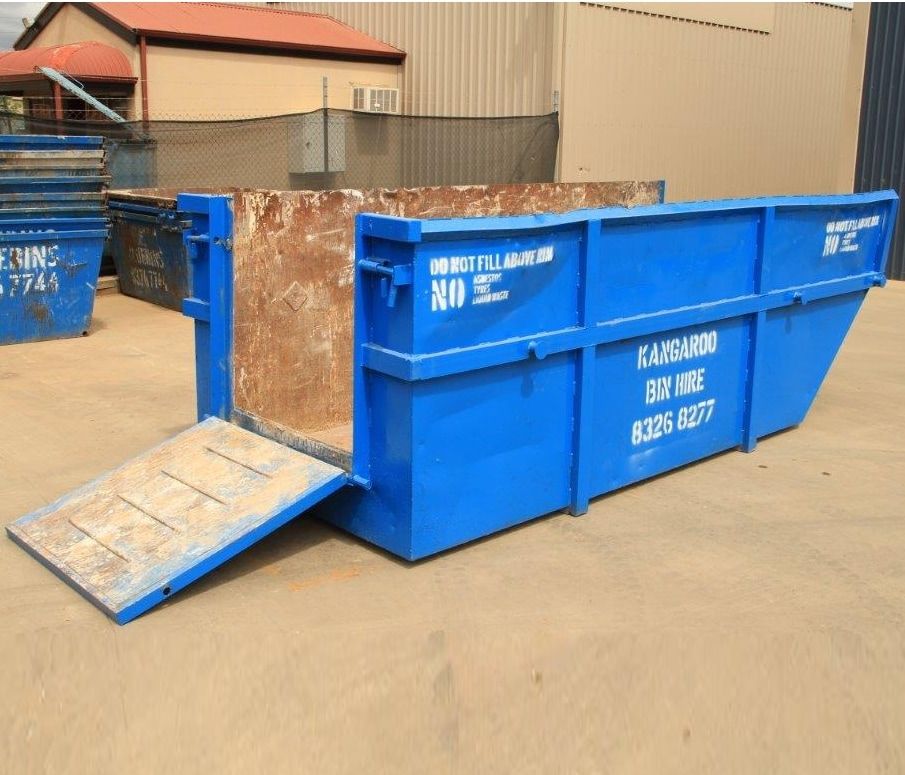 Frequently Asked Questions:
A small skip can cost as low as $150 for a small one to as high as around $900 for large ones. To help you determine how much your requirements would cost, you need to consider the price per square metre. The cost covers the rent of the skip bin and the driver's labour cost. The average rate of hiring a skip bin based on bin size is $75. Or, if you consider Skip hire and removal cost combined, the cost is $55 per cubic metre to $89 per cubic metre.
Professional skip bins services are very responsible when it comes to managing Waste. They don't send the Waste directly to the landfill. They send it to a recycling yard where the Waste is sorted through. Recovery centres will receive these recyclable materials such as glass, metal, most types of wood.
Location: the farther the skip bin rental service location is from your construction site, the more you will be charged.
Type of Rubbish: Rubbish types that do not require special handling, such as Green Waste, do not cost more. However, heavy waste types such as bricks and concrete need special handling and will require professionals.
Local business cost: Labour costs, local business permits, and local taxes affect the price of skip bins
The length of time you rent.
The size of the skip. If you hire smaller skips, you would have to pay for more trips. But it helps if you can seek the help of a professional to assess the best size of skip you require
The following types of rubbish can't be disposed of in skip bins because of their impact on the environment and the reason that these materials require a different procedure for disposal and management:
All kinds of chemicals
Toxic Waste
Asbestos
Motor oil and any types of fuel
Unused paint
Pressure vessels containing gas (such as fire extinguishers and other gas tanks)
About Craigieburn
Craigieburn is a satellite suburb located 25 km north of Melbourne CBD. It has a population of around 50,000 people with substantial Indian, Iraqi, and Sri-Lankan-born residents.
Craigieburn contain substantial residential development areas as the urban sprawl of Melbourne expands northward. An industrial estate is being developed along with the Hume Highway Craigieburn Vic.
The centre of commercial activity is Craigieburn Central, located on the corner of Aitken Boulevard and Craigieburn Road. This serves as the major retail precinct containing many tenants such as Big W and Kmart discount department stores. A Bunnings Craigieburn Warehouse is located along with Hume Highway Craigieburn Vic, with other nearby Bunnings warehouse locations in Epping, Broadmeadows, Thomastown, and Mernda to serve mainly new house owners.
Recent Skip Bins Reviews Near Craigieburn
Had my house remodelled and I had tons of debris to move out before we can move further.
I often overlooked this service then I am lucky there are selections for skip bins. Absolutely useful for something as far off as our place from Melbourne! And it is for Craigieburn! This site is useful and has a reliable service.
This directory just made everything seems so near!
I had this impression that certain services will be harder to come by because let's face it, it can be an hours' drive to CBD from here. There are fantastic services like skip hires that this site showed! Now I don't have to worry about pick up schedules, even if it takes multiple trips to the transfer station and save money.
Jonathan Nutt
Craigieburn VIC 3064
What is surprising about Industry Top 5 is proving that Australia isn't such a big place.
From electricians, plumbers, and now, Skip hires! Just got them so easy! It is all up to you how long to decide. No need to worry about them coming, the skip bins hire that found will definitely help you large or mini skips. They only bring you those who will always deliver!
Samuel Sheahan
Craigieburn Area
Similar Services To Skip Bin Hire Near Melbourne