Fully Licensed Electricians Hornsby
Hornsby Electrician, We curated Outstanding Electricians below.
Why
Industry Top 5

is Your Smart Choice For Selecting Electrical Services in Hornsby NSW

Are you looking for local electricians in Hornsby NSW who can do electrical work for your power points, smoke alarms, data cabling, and all your other electrical needs? Are you looking for electrical contractors who can help you with your electrical wiring, and a thorough inspection to ensure electrical safety on my premises? With hundreds of qualified electricians trying to catch your attention, selecting the best electrician Hornsby has available who can deliver professional service for your specific needs is a challenging task. That is why Industry Top 5 can help you by providing a simple, yet effective selection process where you can get the services of local electricians quickly and effectively. Let us tell you how:
Save Time, and Money to Select Electrical Contractors Quickly
The need for an emergency electrician is an urgent matter. If an electrical emergency strikes, losing hours can mean losing the entire business day. That is why Industry Top 5 provides a smart and quick way you can be able to select the most dependable professionals who can render effective electrical services that will fit your specific requirements. All it will take is just a few simple steps. This simplified process will save you time, effort, and money.
Our Services are Totally FREE
Our custom gets the maximum value from the time they use our services. Our customers get to enjoy the result of our hard work: a well-researched list containing the most dependable electricians in Hornsby out of the hundreds of electrical services on offer throughout Australia. We designed an easily-navigable site where they can get all the data they need in a few simple steps to enable them to make comparisons and make an informed decision quickly. Best of all, you can do all of these for FREE.
Find the Best Help for Electrical Work in a Few Quick Steps
Not only do we make the selection process for the most qualified electrician Hornsby NSW has available, but we also make it quick to do when using our site. The first page alone contains a wealth of information right off the bat with contact information, descriptions, and customer ratings for the most reputed electricians in Hornsby. With just a few simple steps, you can get more relevant information to make a solid decision. Just fill out the quote form and the most dependable electricians in Hornsby will send their obligation-free quotes and contact you ASAP.
Honest Customer Ratings To Help You Make An Informed Decision
We believe that knowing genuine customer satisfaction ratings are helpful in determining the best fit for the professionals who can help you with your specific electrical job. We provide you with a curated list of the most dependable electricians in Hornby NSW. This list is based on research we made on customer ratings to ensure that all the choices you have are only the highest grade electricians serving Hornsby. With any choice you make on our site, you will only get the best possible help for your electrical systems.
Getting All The Data You Need With Just A Few Simple Steps
Industry Top 5 doesn't want its customers to take chances using scant data. Neither do we want our customers to make hasty decisions based on information taken from varying sources. We make sure to get solid and reliable data through our site. From the first page, you get a wealth of information from a curated list of the most dependable electricians in Hornsby. You can get further useful information in a few more simple steps until you have enough relevant information to make meaningful comparisons within minutes.
The Best Local Electricians in Hornsby NSW
Are you looking for emergency electricians that can be on your call within the hour? Are you looking for an electrician Hornsby has available that can provide outstanding customer service for your electrical maintenance, electrical wiring, and all your electrical needs? Industry Top 5 provides you with a list of the most dependable local electricians in Hornsby. These surrounding suburbs based electricians can provide quality workmanship and can provide high value for you because of their proximity and knowledge of local electrical systems.
Get The Best Electricians in Hornsby NSW
Are you looking for reliable help for your electrical problems when you need it? The urgent need to address an electrical fault does not choose a schedule, nor does it have a holiday. Industry Top 5 knows this, and we are all about addressing this need for our customers. Reaching out to trusted electrical contractors and local electricians has never been easier.
These electrical contractors and local electricians can render quality workmanship for electrical jobs whenever you need them. Industry Top 5 are experts in the industry. We made it easier for our customers to reach out to get the most trusted licensed electrician Hornsby has available. With just a few simple steps, you can have an informed decision to ensure you can choose an electrician you can rely on. All you have to do is fill out the contact form, and the top electricians in Hornsby will send you their obligation-free quotes and reach out to you as soon as possible.
Electrical Services in Hornsby NSW
These fully-qualified electricians can provide reliable service for a broad range of residential and commercial electrical needs. These are the services they can offer:
Residential Electrical Services in Hornsby NSW
These electrical contractors can address all electrical needs of your home. They can also do fault-finding, regular electrical inspection and maintenance to ensure the safety of your electrical system especially if you have exposed wires that have yet been detected. Their normal duties cover air conditioning, lighting, power points or power outlets, hot water systems, switchboard upgrades, and home automation. If you are looking for electricians who can help you power up the latest devices for your home, then you have these trusted electricians to help you. They can also do cabling work for telephone, intercom, and data systems. Best of all, you can call on them to help you install safety and security devices to add another level of security for your home.
Commercial Electrical Services in Hornsby NSW
If you are a local business looking for help for your electrical needs, these professional electricians can cover electrical needs for commercial applications. Their duties cover a vast range of services that include lighting, air conditioning, wiring, power points, installation of TV and viewing systems, and security and safety devices. You can also call them to do regular electrical inspection and maintenance checks.
Whether your establishment is a store, a mall, a school, or an entire building, you can rely on these trusted electricians to deliver the electrical services that you need.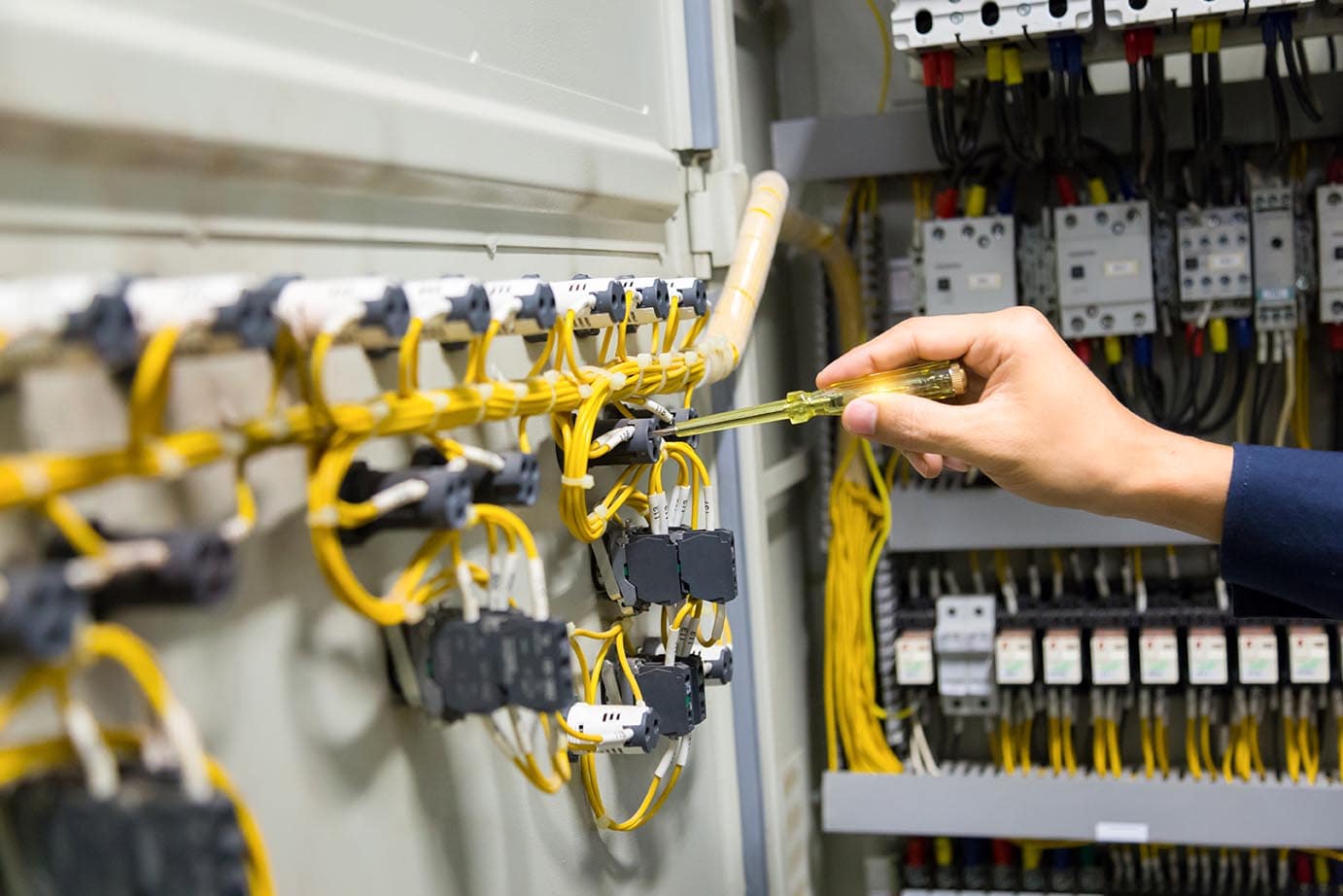 Electrical Preventive Maintenance in Hornsby NSW
The occurrence of electrical mishaps is a considerable inconvenience. It can cost your business a lot of money due to the productive time lost.  Worse, if a fire results from compromised circuits and exposed wires, the resulting damage will be devastating. You need an electrician to do regular inspection and maintenance of your electrical systems. You can call on the help of experienced and trusted electricians in Hornsby to do this job for you and make repairs if necessary. Their service coverage includes power points, lighting, air conditioning, meter boxes, switches, emergency and security systems, and connection to the electrical mains.
Safety Switches in Hornsby NSW
Compromised electrical circuits can, in one moment, cause severe injury and even death.  Inexpensive devices such as safety switches can prevent most of these cases. However, only a qualified electrician can install these devices to ensure the safety of your household or your workmates. They can make sure these devices can function correctly when it needs to.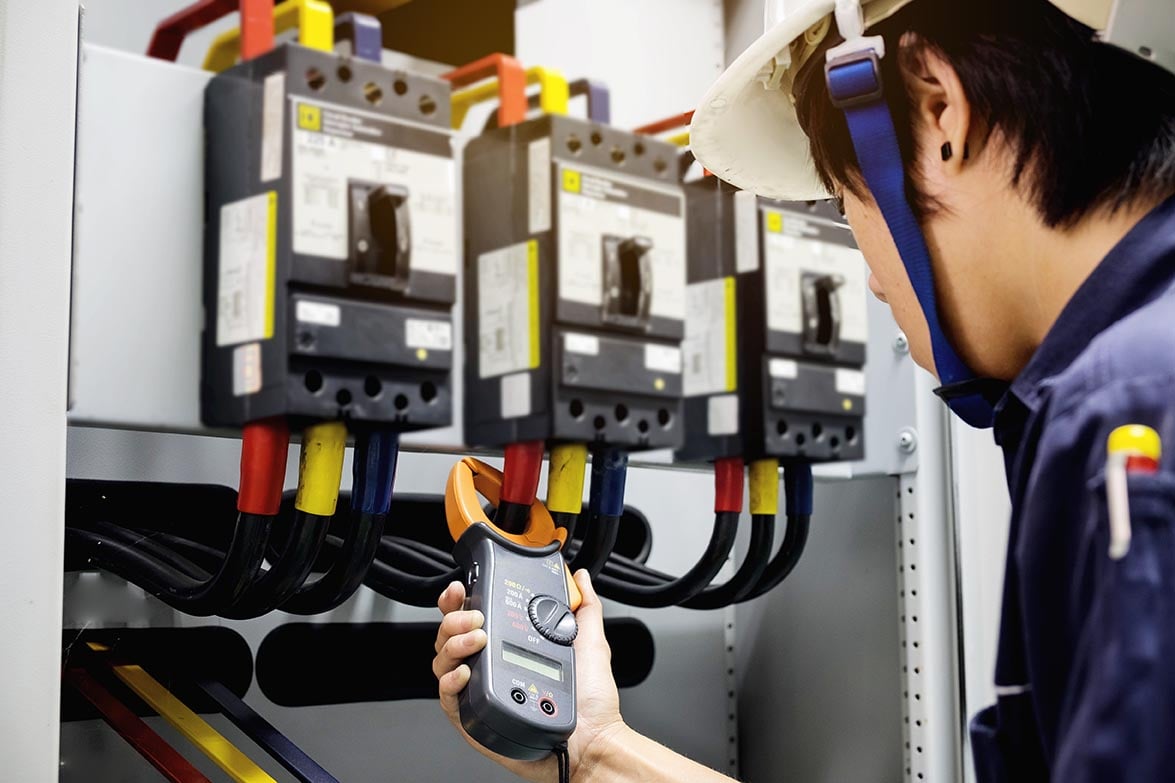 Smoke Alarms in Hornsby NSW
Smoke alarms can buy time for emergency services to suppress the fire before it is too late. Professional electricians are trained to install these devices and make these devices work properly. Best of all, they can help point you to locations where these devices can be most effective.
Security Systems in Hornsby NSW
Security systems are essential to protect your homes or businesses from unlawful entry, thereby providing a layer of protection for you and your property. These security systems include CCTV, access control, burglary alarms, and intercoms. Electricians are knowledgeable and trained in installing these devices and can ensure that these function as designed for a long time.
Level 2 Electricians in Hornsby NSW
Level 2 Electricians possess additional technical and safety training and the license to operate under conditions not permitted for regular electricians. Level 2 electricians can also cover the duties of regular electricians. However, they can also work with electrical circuits with very high electrical loads such as overhead and underground electrical mains. You need to be a level 2 electrician to be allowed to work on Sydney's mains. If you need work on direct connections to electrical mains, then it's Level 2 electricians you need to call. They can also handle duties that involve machinery and electrical systems that require substantial electrical loads, such as significant manufacturing machinery or more extensive air conditioning systems. They can also support builders to connect machinery that will require direct connection to the mains.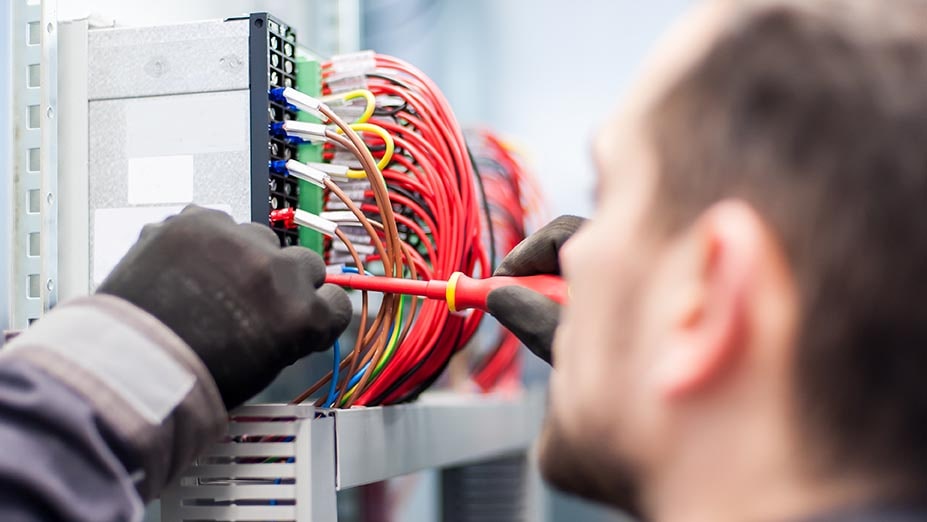 Frequently Asked Questions
Master electricians are professionals trained to deliver safe, reliable, and high-quality service all the time. These professionals undergo constant training to ensure that they are the best in their trade.
Please don't. Leave these jobs to electricians. In Queensland, for instance, it is illegal for anyone to do any domestic wiring or house rewiring unless you are a qualified electrician. We have so many death cases through electrical shocks, so it is better to leave these tasks to qualified professionals.
During normal operations, the current flowing to an appliance goes back through a neutral wire. However, if something should happen to a circuit, the electricity can leak to the ground through a person touching the appliance. And that could lead to serious injury, even death. A safety switch detects the loss of power from the circuit and cuts the electricity supply in 0.003 seconds. This time is enough to let as few electrical currents run into a person's body to prevent injury.
Recent Eectrician Reviews Near Hornsby
If it takes more than two hours for your emergency electrician to come to you upon calling them, then you lose half your business day provided it took you an hour or so to decide who to call.
If you use this site, the time will be so much shorter! It's so easy to use, you can have one come to you within less than an hour!
Don't wait for shocks to happen.
If you have a business, you need to take inspections seriously. And you need to make choosing your electricians seriously as well if you want a thorough and professional job.
Just had a solar water heating system installed.
This site made it easy for me to find the best ones who can do this. The only regret I have is not being able to try them all!
Amelie Postle
North Turramurra
About Hornsby NSW
Hornsby is the administrative centre of the Hornsby Shire Council local government area. Hornsby is located 19 kilometres northwest of Sydney CBD.
The suburb has ready access to public transport because of the direct train link to the CBD via Strathfield or via Gordon. Hornsby also has bus services operating from Hornsby Station Interchange. The Pacific Highway passes through Hornsby. It is still a major link between Sydney and North-eastern Australia.
The facilities and parks Hornsby shire has included 2,000 hectares of bushland. Hornsby has several sporting facilities and parks including the Crossland Reserve, Fagan Park, Lilian Fraser Garden, and Lisgar Gardens.
Hornsby's population has a significant proportion of Chinese-born, and Asian-born residents giving the suburb a diverse feel.