Cost Effective Electrician Campbelltown
We curated a list of Electrician Contractors in Campbelltown
Why Choose
Industry Top 5?
Are you looking for a reliable electrician in Campbelltown to deliver prompt and reliable service? With so many electricians and electrical contractors vying for your attention, Industry Top 5 will help you find the most trusted one you can find.
Save
Time, Effort,

and

Money

Industry Top 5 makes the challenging process of finding the most qualified electrical contractors and electricians that can suit your exact requirements. With our narrowed list of the most trusted electricians in Campbelltown, we will simplify the selection process, thereby saving you time, effort, and money.
We are
Free
Finding the most reliable electrician in Campbelltown available and getting all the relevant information you need brings tremendous value for your time using our site. Best of all, you can do all of these for FREE.
Ease of
Use
We believe that customer experience is key to helping you make a solid decision quickly. That is why we created a site that is easy to use. You can reach the most trusted electrician in Campbelltown has with just a few simple steps. Just fill out the contact form, and the leading local electricians will send you their obligation-free quote and get in touch with you as soon as possible.
Real
Customer Reviews
Our curated list of the leading electricians in Campbelltown is based on these crucial sets of data. Combined with easy access to all the relevant information you need, you can't lose if you use this site to find the most trusted electrician in Campbelltown has to offer.
Comprehensive
Information
It is easy to get all the relevant information you need to get to a solid decision with our site. We make it easy for you to select only from the leading electricians in Campbelltown. Getting all the relevant information you need is also easy and will save you time. Using Industry Top 5, you can't lose with the choice of electricians in Campbelltown you got from our site.
Local
Service
Finding the best local electricians is a crucial factor in saving on cost. Not only do they know the local grids and electrical set-ups, they know the regulations and have experience serving the local market. Moreover, travel costs are best to use our site to find the most trusted electricians in Campbelltown who can deliver the service you require. Industry Top 5 are experts in the industry, and we know what our customers need.
Top Electricians in Campbelltown
The most trusted emergency electricians in Campbelltown know the needs of their customers. More so that they are available even in the dead of night. Electrical outages see no time to strike. So, it is best to keep having professional electricians near you. They don't keep regular business hours to make sure they are available when you need them. With Industry Top 5's help, you don't need to worry about looking for these professional electricians.
Looking for Trusted Electricians in Campbelltown NSW?
Are you looking for trusted electricians in Campbelltown that can provide you with prompt service no matter what time of the day? We can't predict when electrical troubles occur. Hence, it would help if you looked for the most reliable electrician Campbelltown offers that can provide the most precise and professional service to ensure that you won't have trouble even in the middle of the night or on holidays. Don't worry. Industry Top 5 is here to help you.
We have researched hundreds of electricians in Australia to provide you with a narrowed list of the most trusted electricians in Campbelltown who can deliver prompt service.
Whether as simple as switch replacement to large-scale electrical work in construction projects, these experienced local electricians can deliver 24/7. Just fill out the contact form, and the leading electricians in Campbelltown will send you their obligation-free quotes and their availability ASAP.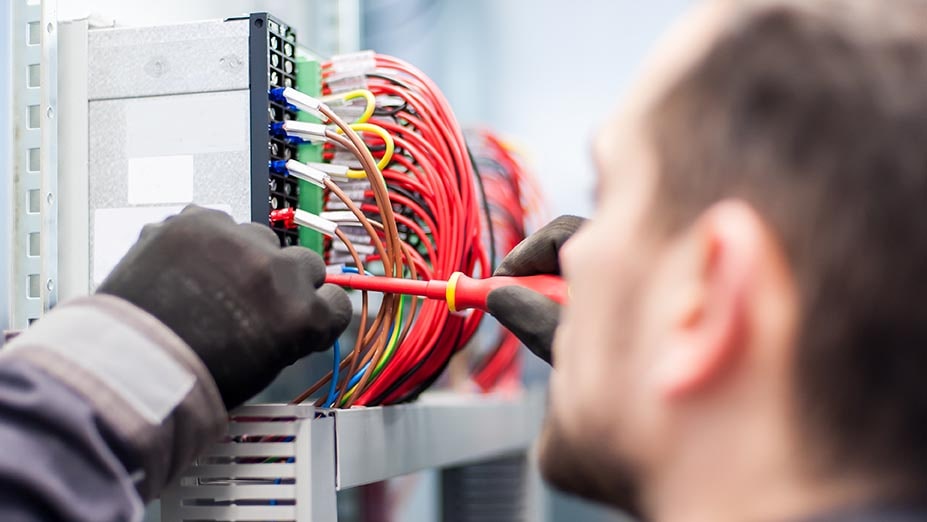 Electrical Services in Campbelltown
Electricians in Campbelltown are professionals who provide a wide range of electrical services. These include:
Residential Electricians:
Electricians in Campbelltown caters household electrical needs through the following services:
electrical maintenance, home automation, electrical renovation work, intercom, telephone, and data systems, and safety switches. They can also do fault finding work, protection from electrical surges, power points, lighting, and installation of electric hot water systems.
Commercial Electricians:
If you are looking for complete electrical services for office fit-ins, whether schools, offices, retail shops, or restaurants, then these electricians in Campbelltown can deliver them all. Suppose it is about power points, lighting, TV and display installations, cable for telephone and data, electrical maintenance, and others. In that case, these are the professionals you can rely on.
Preventive Maintenance:
Your electrical circuits will require inspection and maintenance over time. So it is better to look for reliable electricians to do comprehensive tests for your entire electrical system. These include lights and switches, power outlets and power points, sub-boards or fuse boxes, meter boxes, smoke detectors and alarms, electrical switchboards, and service connections.
Safety Switches
Compromised electrical circuits can cause electrical mishaps. Installing inexpensive safety switches can significantly make your home so much safer. Many cases of injury, even death, are caused by electrical shocks that could have been prevented by installing safety switches. Only qualified electricians can supply and install safety switches to protect everybody in your home or business from these mishaps.
Smoke Alarms
Qualified and professional electricians in Campbelltown are well-versed in installing and optimizing smoke alarms. It is best to be prepared to protect your home and your business from fire.
Security Systems
These professional electricians in Campbelltown also specialize in installing security systems to protect your home and your business. The range of devices and systems they cover are CCTV systems, burglary alarms, access control, and intercoms.
Level 2 Electricians in Campbelltown
These Level 2 electricians have skills and specializations apart from regular electricians.
They can deal with high-voltage, and high-current loading circuits found overhead and underground.
They have more comprehensive training and experience covering electrical work that will be too dangerous for regular electricians. Among all the duties that regular electricians can cover, they can also do the electrical job of metering equipment requiring heavier electrical loads and connecting or disconnecting from the electrical network or electrical mains.
Recent Reviews For Electrical Contractors
What fantastic electrical job!
I told Mike this ITA Electrical company will be my sparky forever.
Bronwyn Doran
Englorie Park
The Briggs Electrical guys were polite and lovely and worked really hard.
We were so impressed with their electrical jobs. They responded to our issue quickly and communicated really well. The guys were polite and lovely and worked really hard. Cleaned everything up afterwards. Would use them again and highly recommend them.
Joanne Atkinson
St Helens Park
These Melbourne Wide Electrical guys are great.
These guys are great, it was the second time we have used them and they did not fail to live up to the high standard they provided last time. Really great communication and transparency, on time, well priced and very clean and tidy. We will definitely continue to use them for all future work.
Jacqueline Steele
Blair Athol