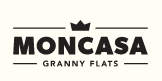 Moncasa
11 William Banks Dr, Burleigh Heads QLD, Australia
Moncasa is a granny flat or modular home designer and builder on the Gold Coast with a Queensland and New South Whales Building license
Moncasa evolved from a meeting of several construction veterans on a new Northern NSW residential estate. The marketing manager of the estate was having difficulty finding builders as most of the blocks were steep. Traditional builders were shunning the estate because of expensive excavation, structural and OHS issues involved.
FEATURED REVIEW
No Featured Review for this Business
Help others by sharing your experience with this business.
Send Message to listing owner
Moncasa