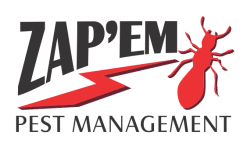 Zapem Pest Management
93 Glen Eagles Dr, Robina QLD, Australia
Zapem Pest Management Family Owned, Fully Licensed & Insured Pest Control
Zapem Pest Management is a family owned and operated business providing pest control on the Gold Coast and throughout Tweed Heads for all residential, commercial, strata and industrial requirements. We're fully licensed and insured, ready to help with all your household or business pest problems. Our pest control technicians not only deal with your common pests, such as cockroaches, spiders and ants, but also specialise in termite inspections, management systems and termite chemical treated zones. We have the capabilities to undertake pest control jobs of any scale for the commercial, industrial or government sectors.
FEATURED REVIEW
No Featured Review for this Business
Help others by sharing your experience with this business.
Send Message to listing owner
Zapem Pest Management