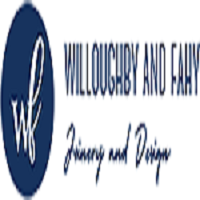 Willoughby and Fahy Ptd Ltd
2/31 Fulton St, OAKLEIGH SOUTH VIC 3167, OAKLEIGH SOUTH
Willoughby and Fahy Ptd Ltd are professional cabinet makers & joiners that offer bespoke joinery, custom cabinets, and wardrobe design services in South East suburbs of Melbourne. We have years of experience in manufacturing & supplying cabinetry and joinery. For more details call us on 0449 047 473.
Willoughby and FahyPtd Ltd – The Expert Cabinet Makers From Melbourne Offers Bespoke Solution For All Types Of Cabinetry & Joinery Needs
Are you looking for custom cabinet makers in and around Melbourne? Well, you should approach Willoughby and FahyPtd Ltd. We offer expert cabinet makers offering bespoke joinery, and cabinet joinery for both commercial and residential buildings.
We are the bespoke cabinet makers providing a complete joinery solution for your living space.
Our Services
1. Wardrobe: We offer a huge range of affordable and impressive wardrobe designs for bedrooms, walk-in wardrobe designs, and modern wardrobe designs for both residential and commercial buildings.
2. Cabinet: We are the best when it comes to meeting the customer's preferred style & functional cabinetry. Designs Australia is one of the prestige cabinet makers, well known for creating unique custom cabinet designs and high-quality modern kitchen cabinets at a comprehensive price.
3. Bespoke Joinery: Willoughby and FahyPtd Ltd is an Australian-owned company offering bespoke joinery solutions for both commercial and residential projects. Our skilled artisans and experienced installers ensure the products are delivered on time.
4. Cabinet Joiner: We have the industry's best artisans who are capable of manufacturing custom-made architectural joinery for all kinds of projects in quick time.
Why Choose Us?
Willoughby and FahyPtd Ltd offers a complete solution for your cabinet and joiner need. We work on all kinds of projects starting from smaller joinery assignments to larger commercial projects.
Here are the lists of a few aspects that make Willoughby and Fahy the best high-end cabinet makers in Melbourne.
• Years of Experience
• Quality Joinery
• Fast Turnaround
• Experienced Installers
• Comprehensive Price
• In-house Delivery
Our Expertise
We are Australia's best custom cabinetry and joinery makers. Willoughby and FahyPtd Ltd has years of experience in manufacturing and supplying cabinetry and joinery across South East Suburbs of Melbourne.
All our artisans and support staffs are highly experienced and capable of handling all types of custom orders. Willoughby and Fahy, specialist joinery cabinet makers of Melbourne listen to your idea and design according to your guidance. After getting your approval, we start manufacturing and installation at your place.
Contact & Location Details
Willoughby and FahyPtd Ltd is located in Oakleigh South VIC. We are the most recommended and highly rated company offering unique joinery and design services in the South East Suburbs of Melbourne. In suburbs like Glen Iris, Wheelers Hill, Malvern, Camberwell, Highett, Brighton, Elwood, Bentleigh, Caulfield, and Beaumaris Willoughby and FahyPtd Ltd have a lot of happy clients.
To know more about the joinery and design services offered by Willoughby and FahyPtd Ltd, visit our official website https://www.willoughbyandfahy.com.au. Feel free to call us and allow our experts to personalize joiner designs according to your needs.
2/31 Fulton St, Oakleigh South VIC 3167
Phone: 0449 047 473
Email ID: ary@willoughbyandfahy.com.au
FEATURED REVIEW
No Featured Review for this Business
Help others by sharing your experience with this business.
Send Message to listing owner
Willoughby and Fahy Ptd Ltd