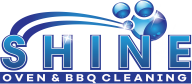 Shine Oven & BBQ Cleaning
Central Coast NSW 2083, Australia, Central Coast
Shine Oven & BBQ Cleaning has over ten years of experience in the cleaning industry and is proud to have a 5-star customer satisfaction rating. We know that cooking in a dirty oven isn't a pleasant experience, and we are proud to clean your oven or BBQ using an Eco-friendly process that isn't harmful to your family, pets or the environment. Our unique Eco-Friendly process is non-toxic and non-harmful. We aim to reduce the waste we produce and eliminate all toxic cleaning chemicals from our oven & BBQ cleaning service. We can clean a wide range of household appliances, including Ovens, BBQs, Range-hoods, gas and electric cooktops, separate grills, microwaves and fridges.
FEATURED REVIEW
No Featured Review for this Business
Help others by sharing your experience with this business.
Send Message to listing owner
Shine Oven & BBQ Cleaning