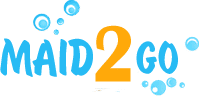 Maid 2 Go Cleaning
Suite 566 41/464-480 Kent Street Sydney NSW 2000 Australia, Sydney
Cleaning Service is here to prove that housekeeping is an easy task. We embrace the fact that our mother earth deserves to be clean, safe, healthy, and happy; we promote a more eco-friendly way of achieving this. Start cleaning your home, office, or any place you are in with the help of our services. With our team consisting of hard-working individuals and expert professionals, we guarantee you a one of a kind cleaning service that is incomparable. We focus on providing an all-in-one online booking experience and top-notch customer satisfaction with the workforce of all the quality cleaners. Book your service now with Maid2go and see the result in just a few hours. We'll go above and beyond your expectation.
FEATURED REVIEW
No Featured Review for this Business
Help others by sharing your experience with this business.
Send Message to listing owner
Maid 2 Go Cleaning