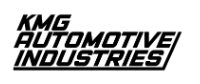 KMG Automotive Industries
Yatala QLD 4207, Australia, Yatala
We believe that creating an environmentally sustainable business is critical. This is why we spend the extra time to break down automotive waste into its recyclable components. From waste oil being sent and converted back into energy, cardboard boxes being recycled and reused, and metal products being sent away to be melted back down to be recast into new parts.
FEATURED REVIEW
No Featured Review for this Business
Help others by sharing your experience with this business.
Send Message to listing owner
KMG Automotive Industries