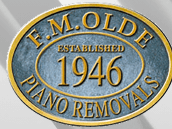 F M Olde Piano Removals
Piano Removal and Storage Greenacre NSW, 2190 Australia, Alexandria
They can damage your piano, home and floors. Often we have to finish incomplete jobs from these "piano removalists" who leave pianos in hallways and garages for the real experts to finish!
Welcome to F.M Olde. First established in 1947, we are the most trusted and established piano moving company in Sydney and indeed Australia! At F.M Olde we move and store nothing but pianos! Moving 8-12 pianos a day and storing over 150 uprights and grands.
FEATURED REVIEW
No Featured Review for this Business
Help others by sharing your experience with this business.
Send Message to listing owner
F M Olde Piano Removals