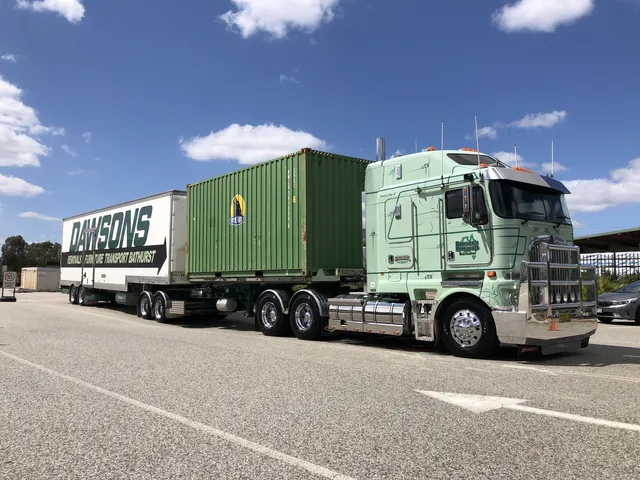 Dawson's Removals and Storage
9a / 55 Wheelers Lane, Dubbo
Is a family owned and operated business with over 50 years experience in the removals industry.
Is a family owned and operated business with over 50 years experience in the removals industry.
Our removalists are trained to the Australia Furniture Removers Association accreditation standards.
We offer a variety of services, click on the below links for further information or you can complete the contact form and one of our team will be in touch with you shortly.
In 1974 other stores such as Norman Ross and Myers-Grace Bros started using Dawson's for furniture freight from Sydney and a new warehouse was opened at Wetherill Park with a storage area of 10,000 sq ft.
By 1977 the company was employing 20 people and using a fleet of 10 vehicles, and it was during this year that a contract was won to supply storage and handling facilities for a multinational pet food manufacturer. With this contract came the need for further expansion so the Durham Street warehouse was sold, and the company was relocated to the current site at Littlebourne Kelso.
In 1993 Dawson's decided to expand its operations to have depots in both Dubbo and Tamworth by purchasing the operations of Amos Removals in those areas.
In 1995 Dawson's became a member of "Australian Furniture Removals Association" (AFRA) of which they are still a member today.
Dawson's have continued to expand, with the purchase of a B-Double in 2007 and the recruitment of their first subcontractor.
2009 Dawson's have 40 pieces of equipment including Prime Movers, Trucks, Trailers, Vans, and Utes, and employ 40 people from Bathurst, Sydney and Dubbo Areas.
Dawson's now have 100 x 20′ containers for storage and rail transport. They also have 4 container trucks, three container forklifts (One in each depot) a truck and dog trailer and a 45′ drop deck trailer, which enabled Dawson's to compete with other national companies.
Dawson's carry out deliveries of new furniture and fragile items for major department stores west of the Blue Mountains, and Household Furniture Removals, Local, Australia Wide, and International.
FEATURED REVIEW
No Featured Review for this Business
Help others by sharing your experience with this business.
Send Message to listing owner
Dawson's Removals and Storage