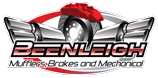 Beenleigh Mufflers, Brakes And Mechanical
102 George St, Beenleigh QLD 4207, Australia, Jacobs Well
Our team understands that the most important thing we can offer our customers is fast service at affordable prices. No unneeded work. No unnecessary suggestions for extra repairs.
We specialise in performance exhausts, extractors, catalytic converters and cold air induction. We proudly work on all makes and models of cars, utes and 4×4s. We use only quality products in all our services, from lube to lug nuts and offer a full range of auto services.
Your car works hard to keep your life in motion, giving it the maintenance and care it deserves.
FEATURED REVIEW
No Featured Review for this Business
Help others by sharing your experience with this business.
Send Message to listing owner
Beenleigh Mufflers, Brakes And Mechanical