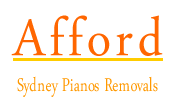 Afford Sydney Piano Removals
Macquarie Park, NSW 2113 Australia, Macquarie Park
Afford Sydney Piano Removals has been moving pianos in Sydney with over 20 years of Moving Piano experience. We move Upright Pianos (box piano), Grand Pianos (the triangular shape with three legs that requires dismantling when moving), Pianolas (gigantic pianos with autoplay mechanism), and Organs (commonly used in Church); we also provide Piano Storage (short or long term) and remove Unwanted Pianos. Our piano moving service covers all Sydney metro areas, regional Central Coast, Blue Mountains, Wollongong, the Hawkesbury.
FEATURED REVIEW
No Featured Review for this Business
Help others by sharing your experience with this business.
Send Message to listing owner
Afford Sydney Piano Removals