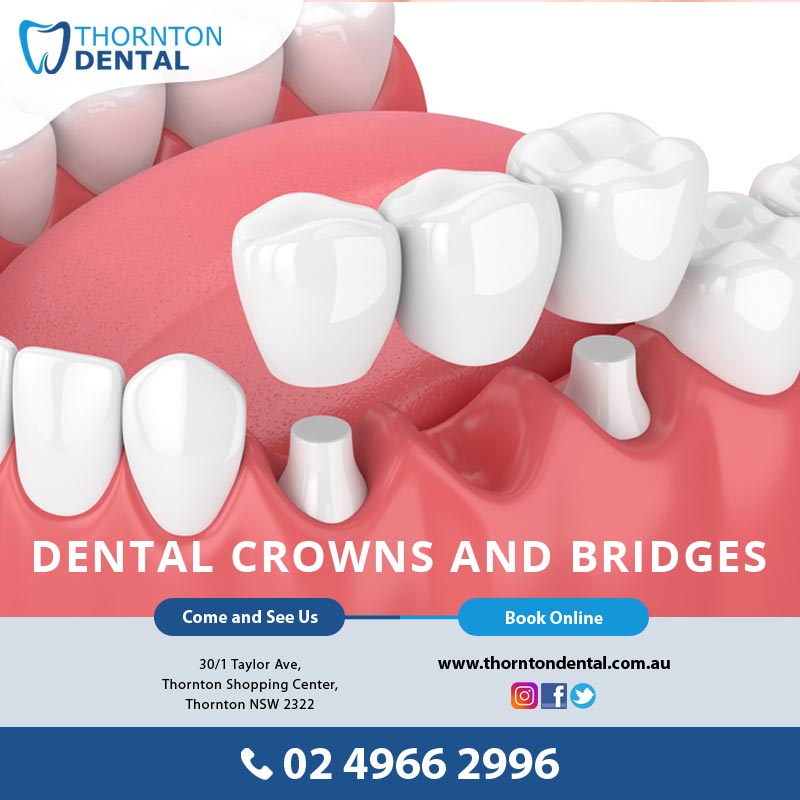 Dental Crowns and Bridges in Thornton | Maitland – Thornton Dental
30/1 Taylor Ave, Thornton NSW, Australia
Our experience in providing dental crowns and bridges allow us to give you with the finest dental service possible. Call (02) 4966 2996 or visit us at 30/1 Taylor Ave in Thornton Maitland.
If you have missing, cracked, broken or damaged teeth, a crown or bridge may help to restore your smile and your confidence.
Made of porcelain or ceramic material, they can be matched to the colour of your natural teeth, enabling them to blend in perfectly.
A crown is a single tooth that covers the entire surface of your existing tooth, whereas a bridge replaces a missing tooth or teeth.
The bridge is cemented to your natural teeth on each side of the gap, which is then covered with a crown. The replacement teeth are attached to these crowns.
Once in place, your bridge or crown will look like your own natural teeth.
Services Areas
Beresfield NSW, Australia
Tarro NSW, Australia
Woodberry NSW, Australia
East Maitland NSW, Australia
Chisholm NSW, Australia
Green Hills NSW, Australia
Metford NSW, Australia
Ashtonfield NSW, Australia
Tenambit NSW, Australia
Morpeth NSW, Australia
FEATURED REVIEW
No Featured Review for this Business
Help others by sharing your experience with this business.
Send Message to listing owner
Dental Crowns and Bridges in Thornton | Maitland – Thornton Dental